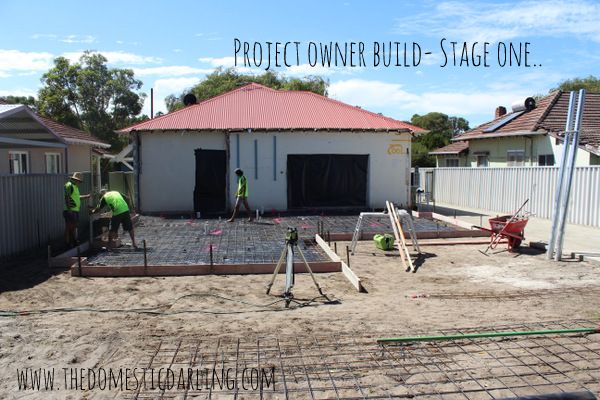 As we are doing our renovation as owner builders we naturally have to fit it in around work schedules. You possibly already know Mr DD is a FIFO bloke so is currently away on one of his money earning expeditions and while he is away things are a little quiet round here at the moment. It has worked out well for us though as we have been able to break the build process up into stages. After some fast work taking that sleepout down and getting the site ready for concrete, we are steadily moving towards an actual complete house again.
Once the site works were finished, Mr DD hired a compactor and compacted the crap out of the area where our new concrete slab was to be poured. I am not kidding here when I say he compacted the crap out if it. The ground around shook so much our pictures on the walls went wonky and we had big cracks opening up across the back of the house. Now I may have just written lots of helpful ways to reduce stress here but I failed to follow my own advice and this was a major freak out moment for me.
Maybe you can learn from our experience and NOT take photos every ten minutes of the cracks in the walls to compare if they have gotten any bigger. Ours did and so did the level of crazy freaking out-ed-ness (yes that's a word I invented it).
Poor little B was made to sit on our bed at the front of the house with books and toys for a good few hours and probably will now have a life long fear of the roof collapsing in on her after hearing me ranting "OMG the roof could fall in call someone, call someone, the cracks in the walls are getting bigger.... AHHHH there's DUST!!!!!!"
So now to stop the walls falling in we have steel bolted to the wall holding it all together EEK
Ok so back to stage one this is what we did..
Ordered a compaction test to certify that the ground was compacted sufficiently. We blitzed this one as Mr DD was very heavy handed with the compactor. You only really need to do this if you are getting a concrete slab, in our case we are opting for polished concrete which we really really don't want to crack hence why Mr DD was super thorough.
Plumbers first fit out. Our plumber came out to site and dug and laid all the pipework for water, wastes and the toilet.
** Our first structural steel arrived on site- The eternal alfresco beams. These needed to be set at the correct angle and due to engineer specifications needed to be set into concrete at a depth of 1mtr. This was done in preparation for the concreters arriving so they could pour the footings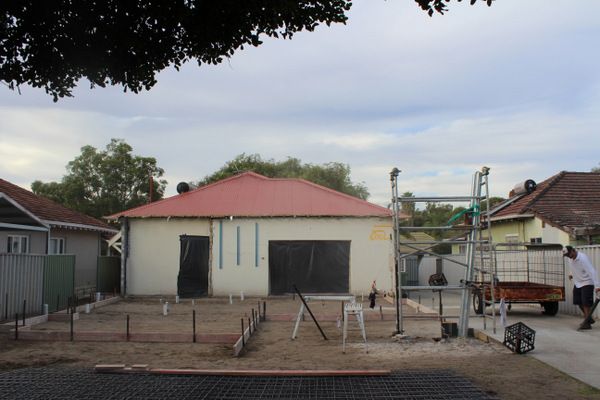 You can't see in the picture but there is some serious wire string going on to hold the beams in the correct place here, Such a tricky job but the boys did well to get it into place. Also you may notice Mr DD with the leaf blower- he also hates dust and we have the cleanest building site ever.
Concrete form work and footings dug. You can see the formwork and pipes in the above pic.
Concrete pour- This was so exciting to watch the first real tangible part of our new home!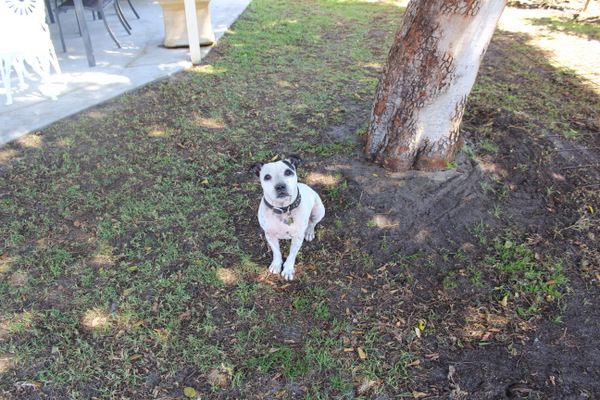 Hendrix the disaster dog wondering what I'm doing hanging off the forklift - Anything for a good shot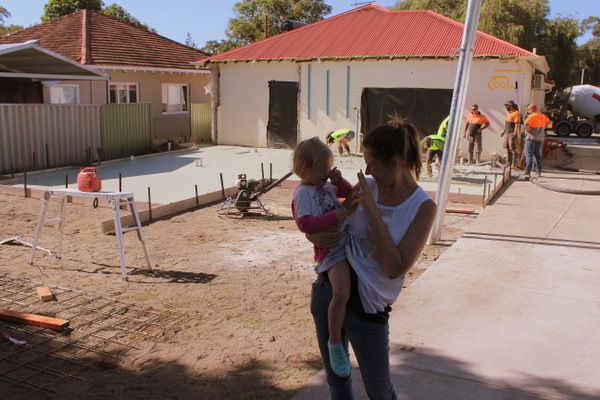 One day I will get a great photo of us both looking at the camera, not doing something weird.
First grind of concrete and protective coat. This was done over two days about a week after the slab was poured. This first grind exposed the aggregate we have in the mix and gave us our first glimpse of what our final floor will look like. Once they had ground the slab they put on a protective coating that the grinder described as a kind of grout glue which has now set.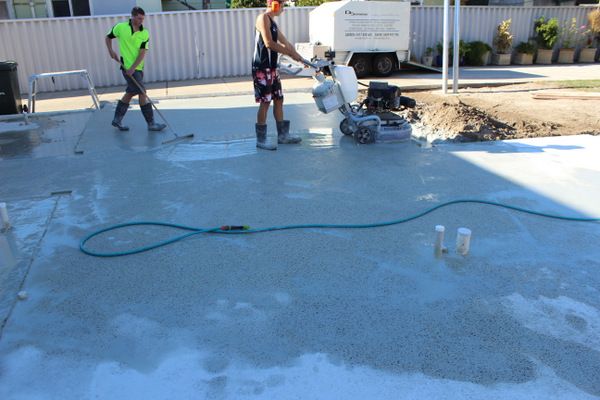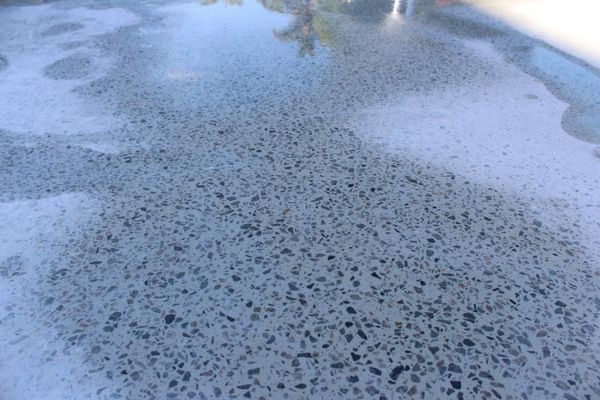 A close up of the polished concrete before it was covered with the grout. The final result will be like this but the concrete will look a little lighter.
Just in case you are interested our concrete polisher is
DS grinding
, if you would like some info on it please feel free to drop me a line!
Now the slab is just sitting out there, I like to take house guests out there for a "tour" of our new extension. I am having the usual freak out that its all too small, but I know that it always looks small when you just stand there looking at the slab.
With the concrete down and setting nicely the real work of stage two is about to begin eeek! Although we are owner builders and doing most of the work ourselves we have got a few trades coming in to help out so we should get the walls and roof up quite quickly. While Mr DD is on his trip away we are just finalising the steel framing, windows and doors if all goes to plan these should be on site and ready to go up before we know it.
Dani xo