One of the biggest questions of the past few weeks has been the door and window frames and what colour to make them. It seems like a relatively minor issue but really when you get down to it the windows and doors are a huge part of this particular project and the way they look will impact the overall style and feel of the space. The pressure is kinda on..
I have had these images floating about the place for a while as different options.
Image credits 1. 2. & 3. via www.realestate.com.au from several years ago (although you can find more images of the gorgeous first house via House-Nerd in a feature post
4. The Design Chaser whom you can also find via Instagram
As well as the image I shared in my last blog post
HERE
with another example of grey/stainlesss windows.
They really do have a different feel and create totally different looks.
After sleepless nights about it (yeah I know that's a lame thing to lose sleep over) we have decided to go with black frames..
The windows and doors are a pretty big ticket item in the build so we feel like black will really make them a big feature. After spotting Michelle from the Design Chaser's home on Instagram, I was completely sold on black frames (although our style isn't as sophisticated and refined as hers). Our main design ideas for this part of the house is to create a relaxed family space with lots of texture, some bright pops of colour and has a bit of an cool industrial feel to it as well stand to take the rough and tumble that comes with having very active small people.
Initial quotes were based on our architectural drawings followed up by a more specific quote now the frames are up with a measure of the window and door frames and site inspection.
What we weren't expecting was the price difference between the quotes. The first quote through a big company was around $8,000 the second bigger company and third smaller company were both around the $28,000 mark one including installation the other not.
My top tips for deciphering the quotes and making a decision are
Always ensure you are being quoted on the correct product. If you are not sure ask to be shown a sample and talk to your architect or building designer.
Do your own research and decide on what you want and how you expect it to look.
Make sure to compare apples with apples. Each quote needs to include install, the same type of windows and doors (or comparative)
Check out local businesses. They may not always be cheaper but there is a convenience factor that comes from your supplier traveling a short distance to you.
Ask about and compare warranty and product guarantees.
Get a time frame from them, this can influence your decision if you are trying to keep things moving along or fit to a deadline.
Get them out to your site to take a measure and offer you a more comprehensive quote.
We have opted to go through the local smaller company for several reasons. The first being they quoted us on what we had requested straight up so there was no confusion. They were also able to suggest an alternate product that was of comparable quality but with a saving of 8-10% on the bigger name branding. Finally and quite importantly they were prompt efficient and professional, something that we always look for in considering our trades and suppliers.
We had our window suppliers round this morning to do the final measure now everything is up and they will be back later this week to start installing them so we will see very soon how our decision has worked out (keep your fingers crossed)
In the meantime here is another quick peak of how we are coming along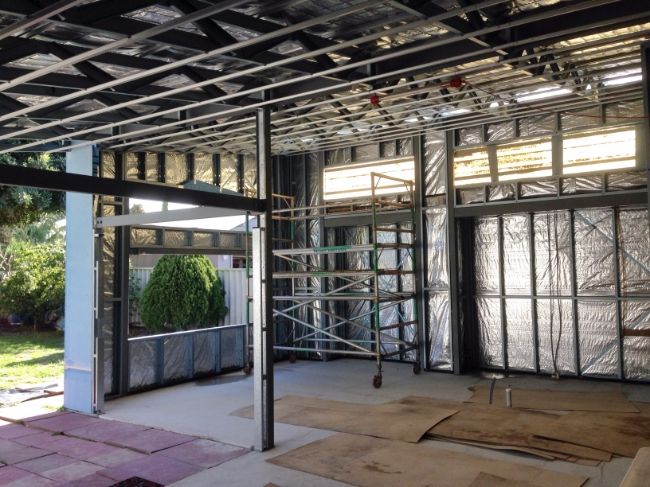 You can see our lovely makeshift windows along the top wall made from old scraps of pergola roofing, while unique and a big statement, they will be replaced with our new black frames....
The open expanse to the left of this photo is where we will have our stacking doors opening onto the alfresco (our paving is also a temporary measure to keep the dirt down).
Have you designed a new build or renovation? Did you obsess over every detail too? Or are you planning/ dreaming of a build soon and keep collections of images of homes you love? I am sure it's normal but would love to hear it from you!
Dani x