Part two?!
I know we are still on the topic of pre-start but as with any big project success is all in the planning.
My organised chaos and how we like to plan. Completely old school with an actual real live pin board (take that Pinterest). You might also notice it was my birthday the other day I turned 25 for the fourth year in a row.
As we are hoping to minimize the disruption to the rest of the house and continue living here while the build is going on it has been really important that we have the house prepared so that can happen. If you are planning your own major renovation project
whether
you can remain in the house or not should
definitely
be considered as the cost of possibly renting short term elsewhere can get expensive and eat into your budget.
One of the first things everyone tells you when you start an owner build renno no matter how big or small is make sure you get at least 3 quotes before you decide on anything...
OK
cool we can do that, it sounds easy enough RIGHT??
Well it turns out it's not always as straight forward or easy as you might think. Particularly if you live in a town that is rapidly growing and build works are happening everywhere. Chasing quotes and getting tradespeople to follow through with site visits has been had work. We can go weeks between sending the plans through for a quote to hearing back, sometimes we don't hear back at all
So.... damn..... annoying.....
Chatting to a friend who happens to have a building company (building amazing homes sadly wayyyy out of our price range), she offered some interesting insight into why it is so hard to get quotes. Apparently a trades person will more than likely always

favor

a bigger repeat customer (a

professional

builder or building company)over a smaller one time job with a little guy like us. Smaller guys like owner builders also want a fixed up front price for the job (for obvious reasons) but as we are quickly learning this is hard to do as there can be so many unknowns that pop up along the way and blow out the time frame.

OK

that's

fair enough, they have got to look out for their bigger clients first as they are the ones who keep the paycheck rolling in week to week and we probably drive them crazy with our need to exact fixed pricing. Still this doesn't really help us out too much in the meantime.
This unfortunately has been a big reason for delays in our start up but we have learnt a few things along the way that I wanted to share.
1. Make sure your plans are ready to go with detailed drawings and info on the project (asking for a general quote without the specifics will most likely get you a complete non response)
2. Persevere with getting several quotes, even if it pushes your timeline out further. We had one quote for steel we thought was quite good only to have one come in at the 11th hour that is MUCH better - like a few 1000$ better.
3. Go with your instincts about a trades person

/ trade company if they seem disinterested, if they cancel quoting site visits, if they

don't

return your calls in a reasonable time frame etc you probably don't want to work with them.
4. Total contradiction for point 3 but SOMETIMES if you have a good recommendation

for someone, they may be worth

pursuing

to get in for a job, keep calling them back until they get back to you. This was the case with our site surveyor, he was hard to get a hold of and initially said he was too busy but he was a lot cheaper than the other surveying companies out there and actually did a great job for us (clearly those are the reasons he is so busy)
5. If you are fortunate enough to get some great trades on your job ask them for recommendations

for other

complementary

trades you might need. A lot of these contractors work together on the same jobs so know who they like to work with. Our concrete polisher

recommended

a

concreting

company who we are now

using. They are not the cheapest (or the most expensive) but they were the most professional and clearly take pride in the work they do.

As the flooring is a big part of our budget we want it to look amazing.
6. If you want things to run smoothly (and this could be a no brainer sorry) make sure that you have all your major starting trades scheduled in locked and loaded BEFORE you start smashing down walls.
Now down to the fun bit of

demolition

! Here is a little sneaky peak of whats been going on...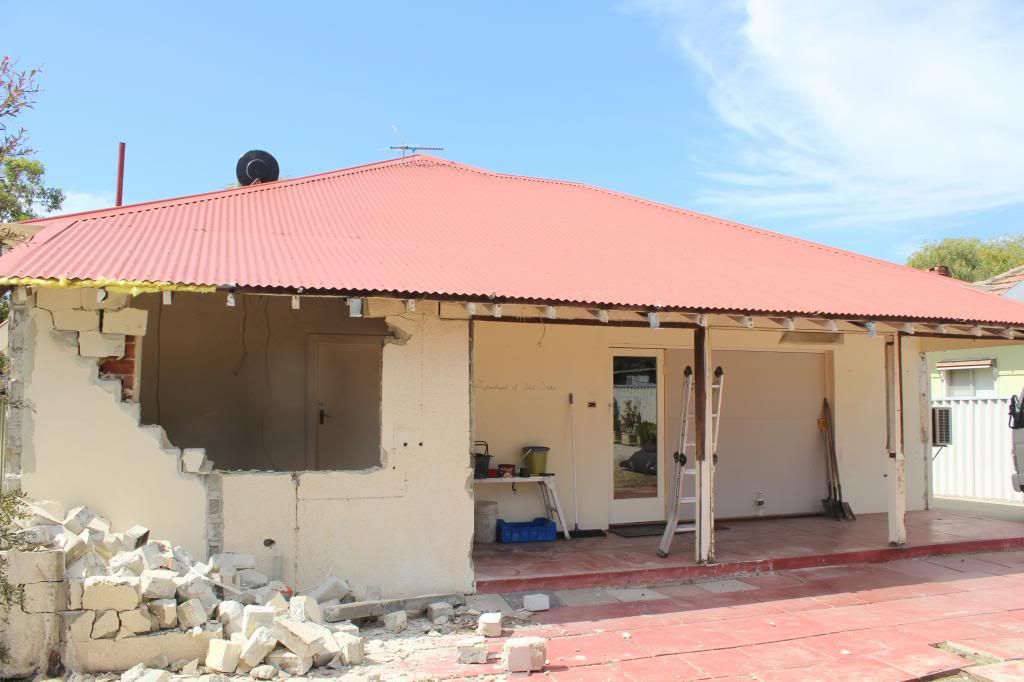 Next up I will be writing about the demolition process and how to

minimize

stress when you are renovating
Dani xo