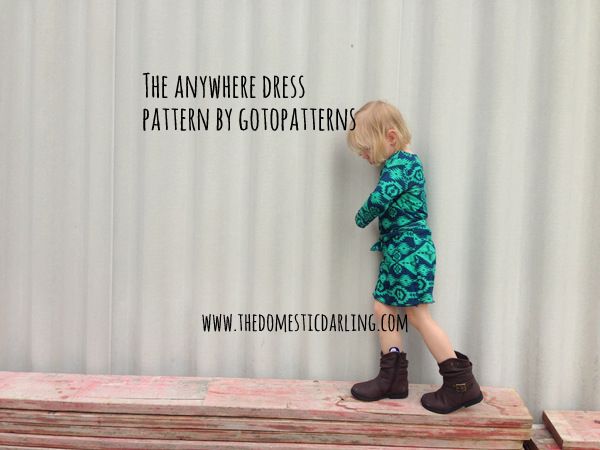 For the longest time when I first began sewing, I had this weird phobia of stretch knits. I somehow thought that it was something that was super hard to work with and required a much more advanced sewing ability. Then one day a few years back I took a stretch knit sewing class and quickly learned it's super easy and now it's probably one of my favorite things to sew with.
I always have my eye out for a good knit pattern now and one of my favorites is the Anywhere dress by Gotopatterns. I bought this one online a few years ago and it has got a good work out in this household. As B is growing like crazy at the moment I have just packed away a big pile of her clothes including some dresses that were more passable as t-shirts and thought she could do with a few new things.
Over the weekend (because I am totally wild) I sewed up these two cuties for B. The first one is just a straight up anywhere dress in a gorgeously silky soft cotton jersey spandex. The fabric in this one is so unbelievably soft and comfortable that despite B not wanting to wear it because it wasn't in "girl colours" she didn't mind keeping it on in the end as it felt nice.
This particular knit is out of stock but you can find alternate colourways at
girlcharlee
- it's probably the best place I have found for a great range of stretch knits in cool prints. The postage to Australia is a bit of a killer but the knits are cheaper than I have found anywhere else so it kinda balances itself out.
I made a quick little top knot headband to go with it but she decided that it worked better as a belt, and I will have to agree it looks pretty cute.
Somehow B interpreted this dress as something princess Elsa (from the movie frozen) might wear and is gathering her ice powers together to shoot me with ice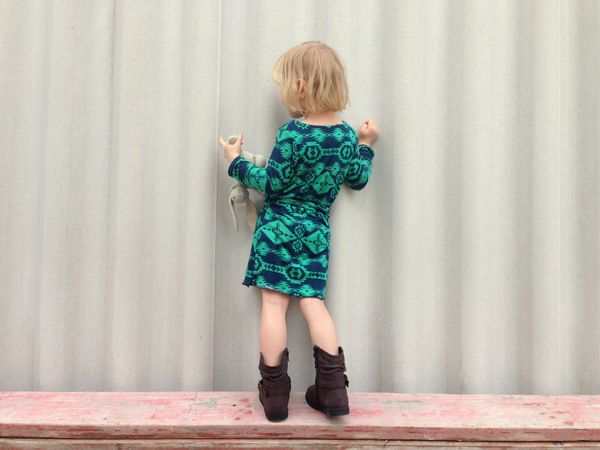 B is probably the worlds worst model, while it may look like she is posing to show the back of the dress, she was just licking the fence.. she's a special kind of kid...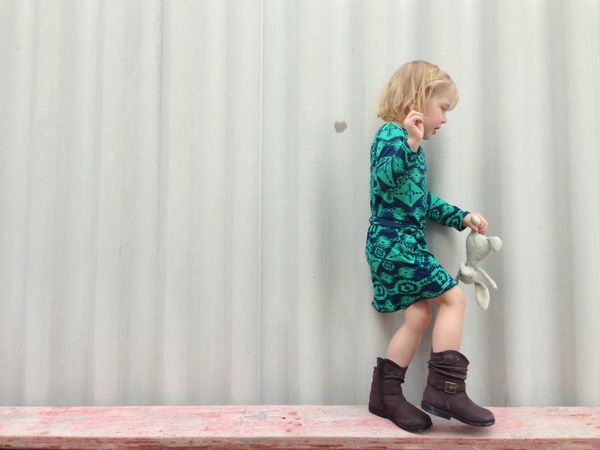 Yup that's my kids spit on the fence, like I said she's special..
The second dress is a bit of a basic pattern hack. Knowing that B loves a twirly dress, I cut the main body of the dress down to about a third of the original length and added in a skirt to make up the remaining two thirds that is made from 2 pieces cut to 2.5 x top width (width) and used the measurement of the remaining 2/3rds of the dress pattern plus an inch for the extra seam (length).
This one was made from a cotton Jersey blend for the printed fabric (also from
girlcharlee
) and I am only guessing the same goes for the bodice as I was given that piece as a off cut from the hubs grandma so I didn't buy it but it has the same stretch, weight and feel to it.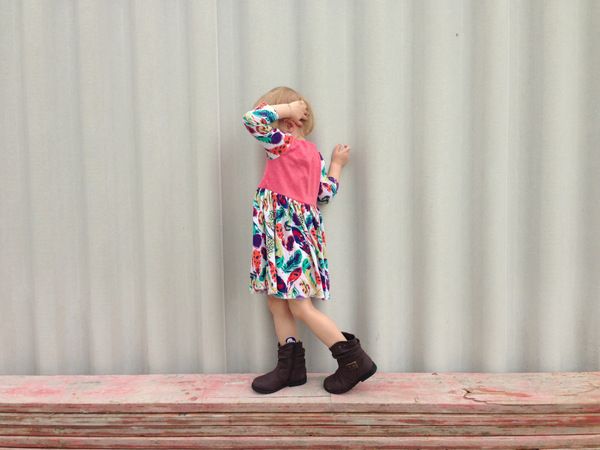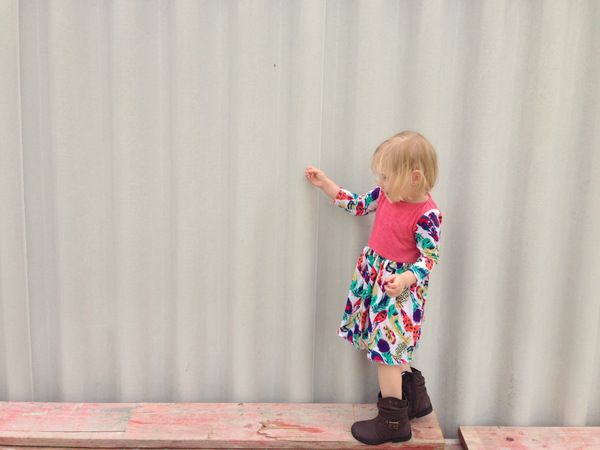 Some details on the pattern for those who are interested. I really like all the gotopatterns I have bought so far with no exception for the Anywhere dress. The instructions are very clear and of a high quality. They use illustrations rather than photos which is common place in online PDF patterns. I personally prefer illustrations as I often find pattern instructions distracting when they pattern maker uses photos with overly loud fabric choices or fail to use a contrasting thread to make stitching lines clear.
The pattern itself is a beautifully simple one which comes with several different sleeve options and a huge size range from 12 months to 12 years which for me makes it great value as I will be able to continue using it until both girls are much much older.
As for the fit, both versions shown are a 3T on B who turned three in March (she usually wears age 4 shop bought tops). She is really quite tall for her age but also slim so this fits her pretty nicely with some room to grow. I do need to add an extra inch to the sleeves if I make the full sleeve option (they are bunched up in the second dress photo) but I assume that's more because she has long arms than a pattern issue.
I would suggest being careful with your knit fabric choices and the neck seams. I have made the mistake in the past of sewing the neck seam a little too small with a knit that only had a 30% stretch and had trouble fitting it over B's head. Again I think that's more my dodgy sewing skillz rather than a pattern fault but I thought it's worth mentioning so you might learn from my mistakes.
All in all I really love this pattern. B has at least 6 of these little dresses now plus two I have made as nighties for her plus she really likes wearing them. I have found it is a reasonably quick sew and is a great versatile pattern that can be worn year round. I especially like that it lends to so many opportunities to mix it up. I am thinking the next one I will make her will have ribbing for the arm cuffs and hemline to make it more of a winter sweater style tunic.
So if you have made it this far down reading my ramblings I would totally
LOVE
it if you left a comment!! Love the fabric? Hate it? Want to learn how to sew knits? Or have you made an anywhere dress yourself?
Thanks for stopping by!
Dani xo