In my last blog post I talked about our window and door choices. Being owner builders and having this project stretch on for as long as it has, there were times I thought this might never happen but guess what?? They are 99% in! I also happen to think they look kind of amazing.
The house now has all the wiring, plumbing and wall insulation installed ready for internal gyprock.
The pressure was on a bit with the hubs my little bro and brother in law (who all happen to to be sparkies) as due to the skillion roof there will be no crawl space between the ceiling and roof which means there is no room for error. If we need a PowerPoint moved or an additional light it is wall tearing off business. That means we sorta need to get it right first time round.. Fingers crossed
Now back to the real point of my post, the progress shots so you have have a snoop.


Looking back to our alfresco area, the original ceiling line on the driveway side has been modified to hide some ugly steel work but also to incorporate some down lighting and extractor rangehood for an outdoor kitchen (we will one day be able to afford). We are planning to replace the rustic concrete pavers and black plastic with recycled brick in the near future.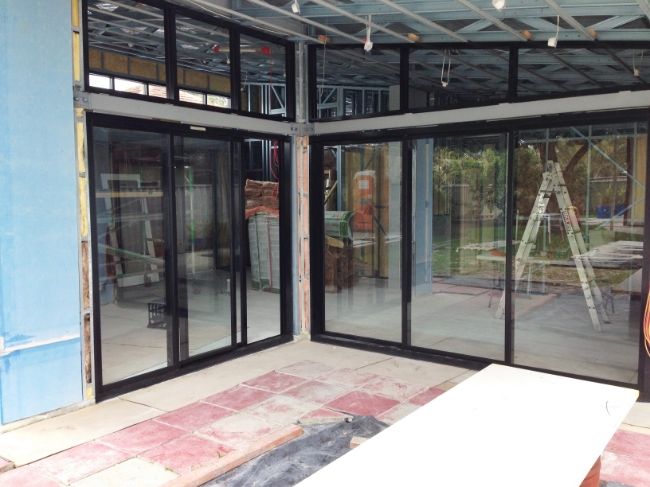 Doors to the left enter into our dining area and are waiting on some security/fly screens to be fitted hopefully next week.
Looking into our dining area which has a really great view of the yard
You may have seen this if you follow my instagram account (only in an artists impression version) this is so exciting for us to see our vision coming into reality. This is the view looking from the new lounge area onto our kitchen and dining.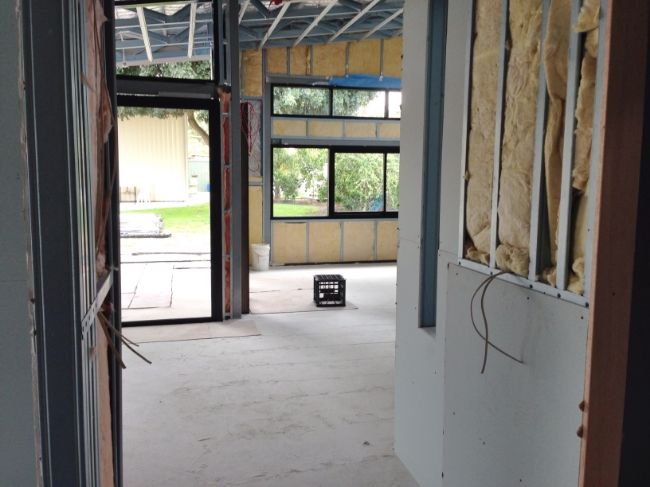 Standing at the threshold of our old house and looking through to the main living space. Too my left is our new laundry (see below) and to the right is a walk-through powder room into our en-suite bathroom.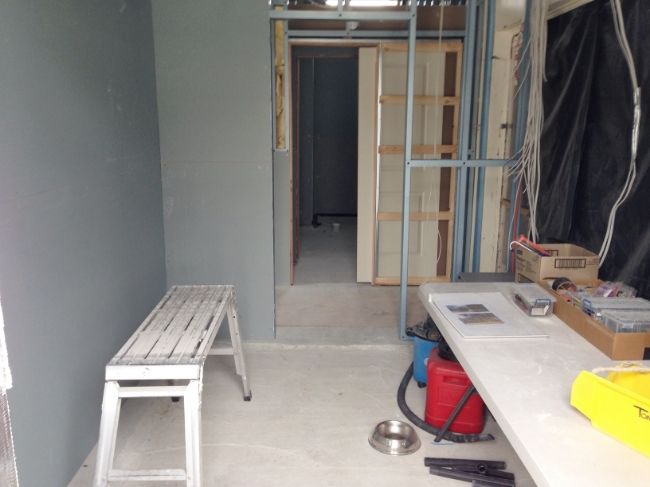 Sorry about the ugly picture to finish off but I thought it deserved a mention. I am standing at the new laundry/shoppers entrance looking through to our powder room and ensuite (behind the far back wall is our new walk in wardrobe). This is where our old ugly sleep out once stood with the creepy old laundry. I can scarcely believe it is the same place! You have see how it once looked right
here
...
So that't it for now! I'm quite happy with the progress and how things are moving along. This month we will see our gyprock internal walls go up, the doorway for our walk in robe knocked through, our kitchen get installed and if we keep to schedule those concrete floors may just get polished (no pressure Mr DD).
What do you think? As always if you have any questions for me in regards to trades, processes or recommendations you are welcome to drop me a line via the comments below or if your shy an email!
Dani x