For those that may be considering your own owner build renovation or have just wondered whats involved I thought I would share some of the details. We are still in the pre-start stage of our first ever major owner build project, it seems to be taking forever but as a wise person once said "those who fail to plan, plan to fail"
Whilst our little house isn't our forever home, it is our "for the next 10 years" home so we really want to get it right first time round. Is that going to happen? Probably not (I'm a realist) but we are hoping to get bloody close.
I am quite certain that we haven't done things the same way others in our position have done but here is a (abbreviated) rundown of what we have done to come to this point.
Initial meeting with the building designer- to discuss design ideas, space requirements and our super long wish list
First draft sketches- We are so lucky that our building designer nailed it first go on drawing up exactly what we wanted so there was no need to go back and forth with major changes
Consultation with a building estimator- Engaging a building estimator who specialises in owner build projects to estimate the total cost of the project. This was a smart move as this gave as a pretty good idea about our budget and if what we had come up with the building designer was realistic for the outer limits of what we wanted to spend. If you are thinking about going down this route and you are inexperienced in major build works then I would recommend this to you.
Engaging a surveyor- We needed to get a full contour survey done to finalise the building plans in order to submit to council.
Submit to council for planning approval-(This probably varies from state to state and country to country) If you have a good building designer, they should organise most of the paperwork for you including the incorporation of survey data and any justifications required if the build falls outside the scope of general planning rules.
Applying for finance- This might seem easier than you might think, for us it meant moving to another financial institution and a frantic few days to make our house look as nice as possible for a valuer to take a look. We have been lucky enough that our property value has increased enough that refinancing is an option for us. ****How much you think you can get is something to seriously consider before you even start with your building designer.
Applying for your owners builders licence- Again this will vary from state to state and country to country. We were able to sit a online course to gain certification which only took a few hours. This was very useful as the course provides a lot of helpful information about scheduling, budgets and contracts that really is need to know. Can you believe it I have my very own Owner building licence!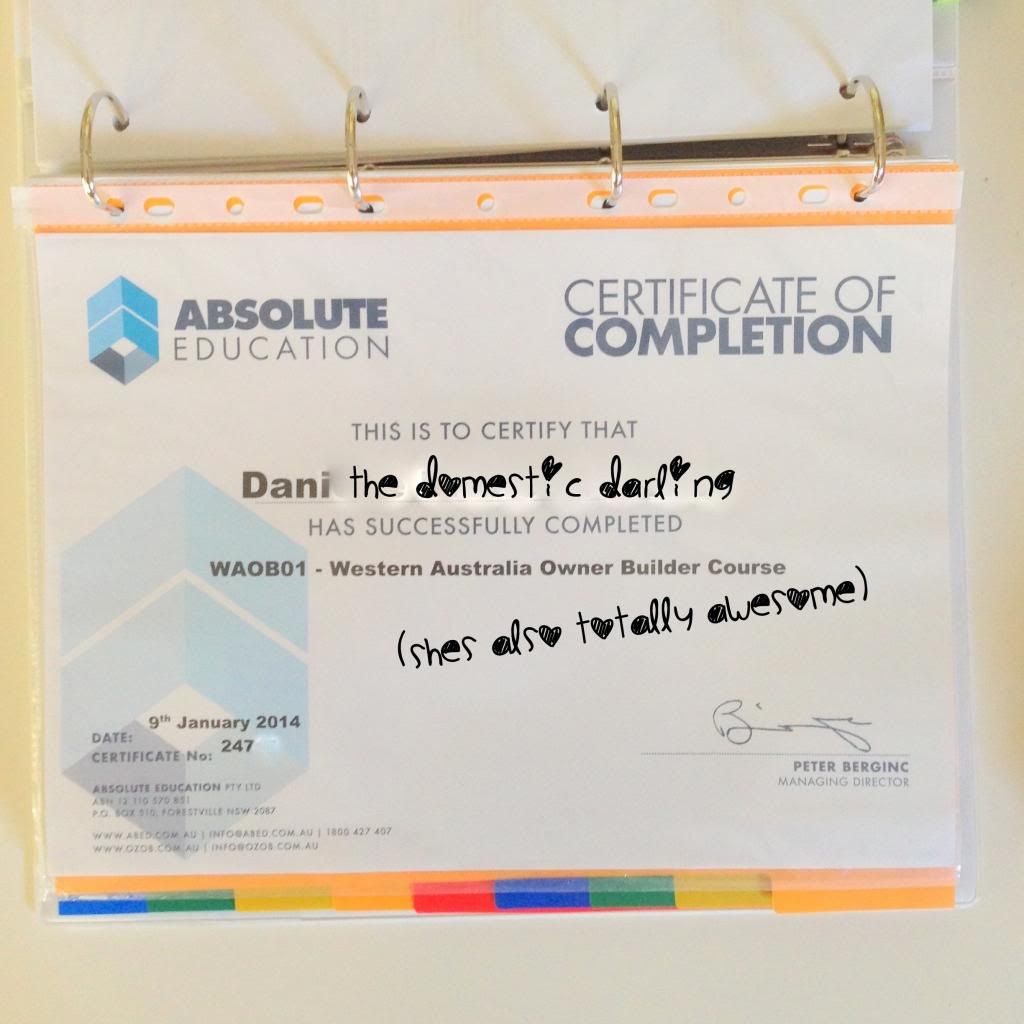 Yes it totally said this on my certificate... I haven't altered it in any way....
Engaging an Engineer- Once you have planning approval, your finished drawings and a budget the engineer needs to have a look to draw up your working drawings. This is how you are going to put the whole thing together, make sure it's all up to code and won't fall in around you once its built.
Submit to council for building approval- Once you have this approval in theory you can get started whenever you like (whoohoo)
While this has all been going on, in the background the hubs has been quietly going about getting quotes for all the trades and materials we need. This alone is a post of it's own as it is a huge task to undertake when you are starting from scratch.
I have recently discovered
This Little Yellow House
and
The Jarrah Jungle
fellow DIY renovators so there are plenty of us out there if you would like to check them out for some inspiration.
Have you started your own build project? Or do you plan too in the near future??
** Next up we will be talking tradies, quotes and getting ready for demolition
Dani xo